Exercise-Induced Collapse DNA Test
EIC causes exercise intolerance in affected dogs
Order Dog DNA Tests by Breed
In our state-of-the-art laboratory, we perform dozens of validated DNA tests for hundreds of breeds: Type in your dog's breed and hit "Search" to see the possibilities. For dogs of unknown descent, type "mixed breed."
Test Highlights:
Name: Exercise-Induced Collapse (EIC)
DNA Samples: Collected at Home Using Cheek Swabs
Cost: £58 + S&H per Dog/Multi-Test Discounts may Apply
Results: 5 Business Days after Receipt of Samples
How do I Know if my Dog Carries the Mutation for EIC?
Dogs affected by Exercise Induced Collapse (EIC) will often begin to exhibit leg weakness followed by a complete collapse after just 5 to 15 minutes of strenuous activity. The severity and duration of these spells can vary depending on the environment. EIC is a big problem particularly with hunting and field trial dogs, where long periods of excitement and exercise are common. In extreme cases, dogs affected by EIC can die.
It is estimated that at least 25% of all Retrievers taking part in field trials today have at least one copy of the EIC mutation. It is a recessive disorder, therefore carriers (those having 1 copy of mutation) do not show symptoms. However, if these dogs are used for breeding, they will pass on the mutation 50% of the time. If a carrier-to-carrier mating occurs, it is expected that 25% of the offspring will be "EIC affected" (those having 2 copies of the mutation).
Our DNA test for EIC in dogs gives breeders an accurate, convenient, and affordable tool to help them avoid producing EIC-affected offspring and significantly reduce the gene frequency in future generations.
DNA results are emailed within 5 business days, once all samples are received at the laboratory.
Not sure if you need this test? Type your breed into the box above or contact us for a free consultation.
Your Exercise-Induced Collapse (EIC) DNA-test kit includes:
Sterile DNA-collection swabs
Complete instructions
Understanding Results
There are 3 possible genotypes reported for Exercise-Induced Collapse (EIC)
CLEAR: those having 2 copies of the normal allele and appear to be normal
CARRIER: those having 1 copy of the normal allele and 1 copy of the mutation but appear to be normal
AFFECTED: those having 2 copies of the mutation are likely to show clinical signs of EIC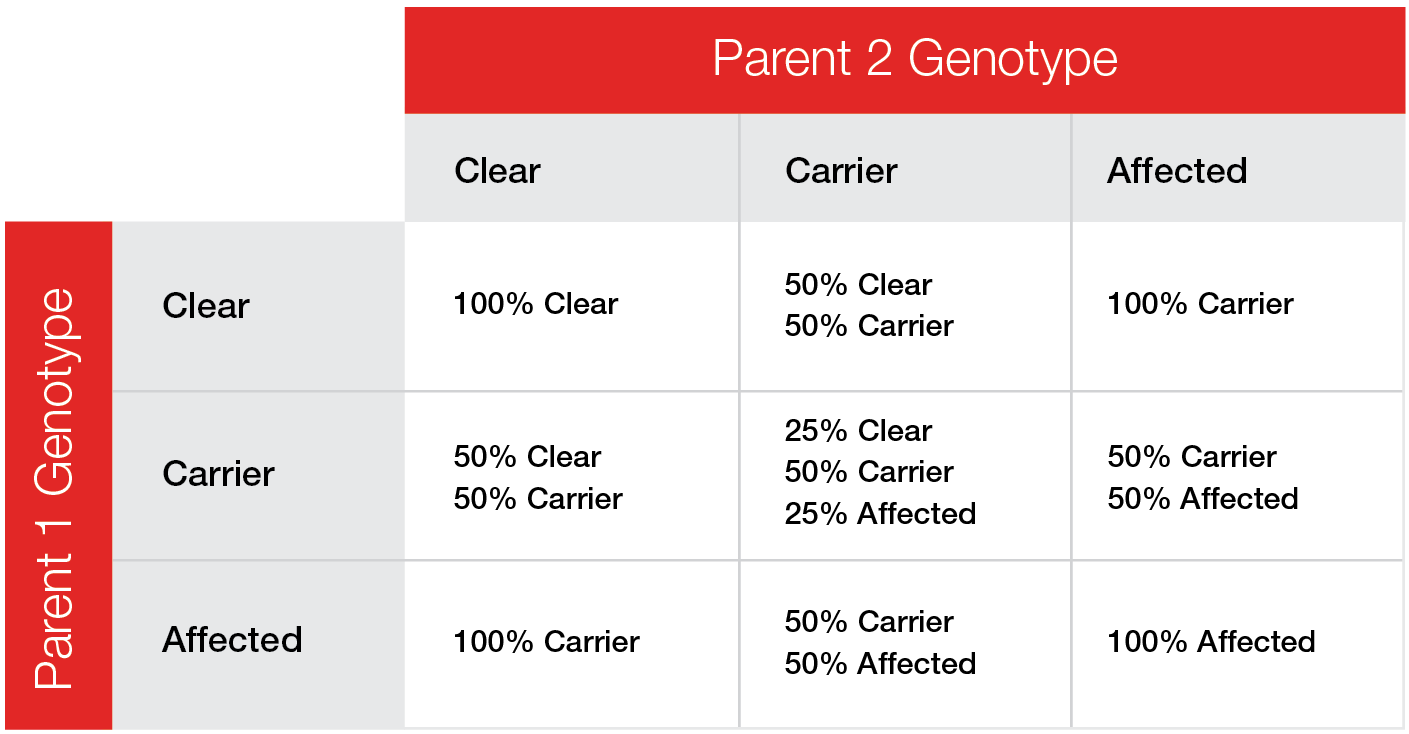 The More You Test, the More You Save: Every Day!
Multiple Test Discount: Buy 2 or more dog tests (in any combination) and receive 20% off your order!
Do you have questions or need assistance? Contact our team.
Our Pets & Vets products are serviced exclusively by our U.S.A office. Email your request using the form, and one of our experts will reply as soon as possible.
DNA Technology Park
1 DDC Way
Fairfield, OH 45014